For some time Empathy players were able to trade 16 Ender Pearls or 16 Rotten Flesh at /warp XO for a "hug" or a "kiss" from Empathy. These hugs and kisses could be used at the EMA echange, at /warp emaexchange. Read about the EMA exchange here
http://empathyheals.enjin.com/forum/m/21228992/viewthread/27461440-introducing-ema-exchange
and its latest update here
http://empathyheals.enjin.com/forum/m/21228992/viewthread/29074231-ema-exchange-has-been-updated
.
The machines to trade Ender Pearls and Rotten Flesh for hugs and kisses were large redstone contraptions that sometimes didn't work and left some players confused with the process. Also, the machines involve keeping a certain about of hugs and kisses in chests to provide as trades, which can run out, requiring extra work to re-stock them.
I have recently updated this system and now we have two villagers who trade the

16 Ender Pearls for hugs, Squeeze

, and the

16 Rotten Flesh for kisses, Pucker

.
Find them also at /warp XO. You can use the old machine on the opposite side of the wall at /warp xo made by wd (at your own risk) or use Squeeze and Pucker to trade for hugs and kisses, as the EMAexchange machines recognizes hugs and kisses from both sources. I will also therefore try to make the new ones enchanged, so wait a while before you trade with Squeeze and Pucker. If you do trade with the villagers, though, you can also trade your 16 Ender Pearls for 32 Bottles 'o Enchanting, and your Rotten Flesh for 16 Bottle o'Enchanting. The items at the Exchanges that you can get for hugs and kisses will change over time, so there are times you may want exp rather than anything you can trade for hugs and kisses.
If you have any questions ask below. Enjoy trading with our new villagers and let me know if you run into any problems.
Below are their commands and screenshots of trades. But before I post these, I want to thank frostalf who recently joined our server, and ShelLuser from Planet Minecraft, for helping me with these commands. frostelf helped me find the command generator for the villagers, and SheLuster helped me put together the two commands for the villagers and hugs and kisses so they work together. The command generator did not allow me to input custom items for the villagers to trade, but SheLuster helped me overcome that and come up with working commands. Here is my thread where this help was provided. It is very detailed and it is worth reading as you might learn something:
https://www.planetminecraft.com/forums/minecraft/redstone/command-block-help-combine-two-c-565566
Commands for Squeeze and Pucker:
https://pastebin.com/AzdssG1y
Trades:
Squeeze:


Pucker: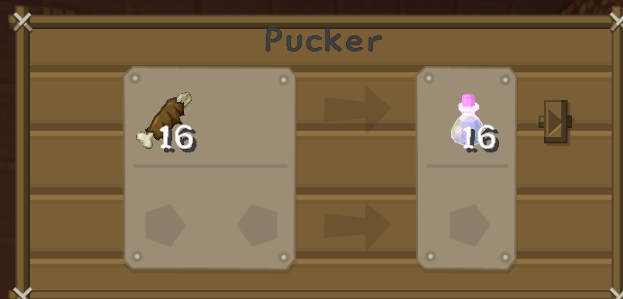 PS. I did not put this thread under EMA because I might use hugs and kisses in other exchanges, so I think it should Squeeze and Pucker and /warp XO should be considered more as part of EQAL than EMA.